Children are the hearts and minds of parents. Every pair of parents hopes to provide the best living conditions for their children. Therefore, in the building materials market, there are products specially designed for children based on children's physiology, psychology and personality. The editor recommends Faenza 's children 's wash basin to everyone. Let 's take a look.
Faenza FP36101 child wash basin is one of the professional sanitary ware products specially built for kindergartens, nurseries and early childhood education institutions under the Faenza series of products. The product's appearance design is close to the children's psychology with shape and color, and in all aspects of the design, it has taken care of the children's habits and characteristics in use, and promoted a product design concept that allows children to love hygiene.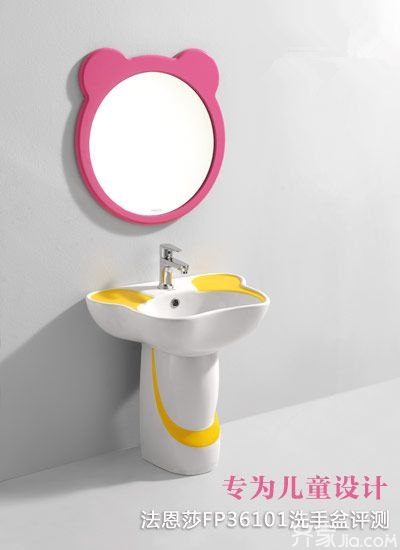 Faenza Sanitary Ware Co., Ltd. is a modern large-scale ceramic sanitary ware enterprise integrating design, R & D, production and sales of "FAENZA" high quality sanitary ware, ceramic tiles and supporting products. It is well-known in the industry for its professional production of "FAENZA" brand ceramic sanitary ware, bathtubs, bath rooms, bathroom cabinets, faucets, hardware pendants, and porcelain glazed tiles, polished tiles, porcelain tiles, exterior wall tiles, square tiles and other products Known as the "ceramic carrier".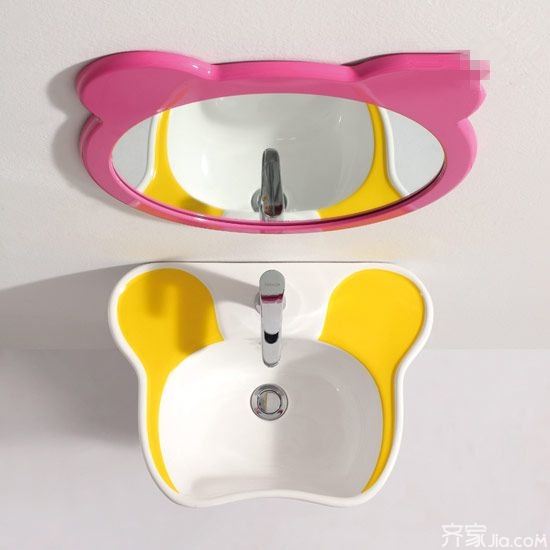 This time, the editor will conduct a comprehensive evaluation of the shape, design details and material characteristics of the Faenza FP36101 children's wash basin to provide a comparative reference for netizens.
Faenza FP36101 child wash basin: shape characteristics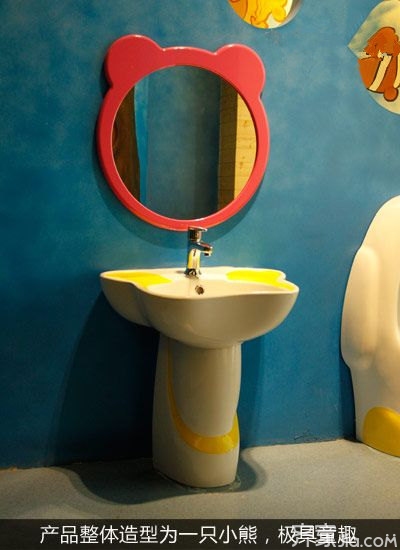 The biggest shape feature of Faenza FP36101 children wash basin is designed for childlike vivid animal cartoon shape, and bright and soft colors. The overall product shape can give people a cute and childlike atmosphere, more close In line with children's recognition of the entire product.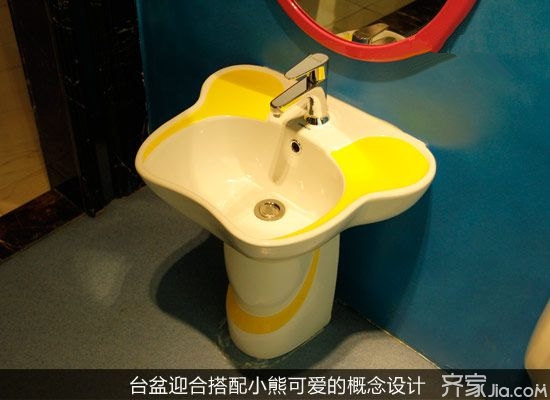 The overall shape design is a cute bear, the basin body is designed to imitate the bear body, and the mirror is like a bear head, which is very childlike. The mirror surface is matched with a rose red edge outer panel, and the color is more vivid, which can make school-age children more loved.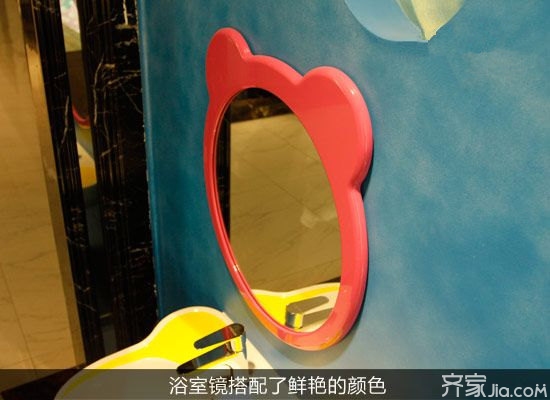 The washbasin caters to the concept design of the cute bear, and the two sides are extended with the shape of bear ears, which can be conveniently used for placing soap or hand soap for hand washing. A light yellow color that attracts children's visual senses is added as a collocation, which can more effectively stimulate children's retina development.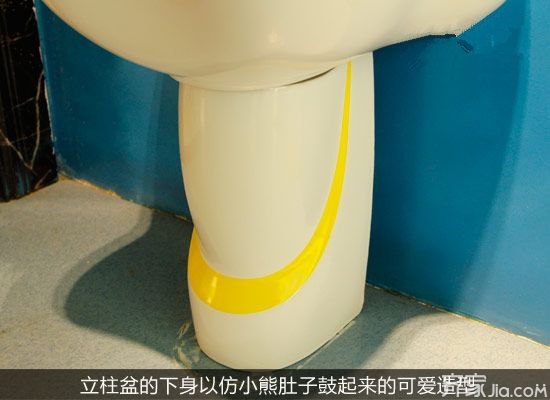 The bathroom mirror cleverly uses the sleek and cute cartoon style, and also matches the bright rose red color, which can attract children's attention more and make children fall in love with the good habits of organizing clothes and washing their teeth.
The lower body of the pedestal basin has a cute shape that resembles a cartoon bear's belly, making the overall shape of the product look more intense and vivid.
Faenza FP36101 child wash basin: design details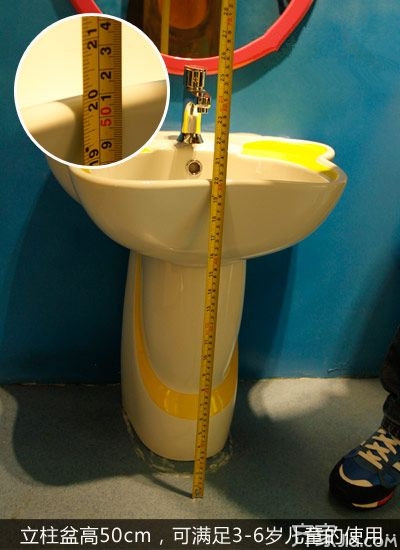 Faenza FP36101 children's wash basin focuses on children's usage habits and features in all design details, such as appropriate height and width, and avoiding a large number of sharp corners, which is the most suitable for children's home product design. One of the important details.
The height of the pedestal basin is 50cm. Judging from the design of this height, it can well meet the general use height of 3-6 years old school-age children. It can be very relaxed and very convenient to reach the wash basin for washing hands or brushing teeth. Wash your face.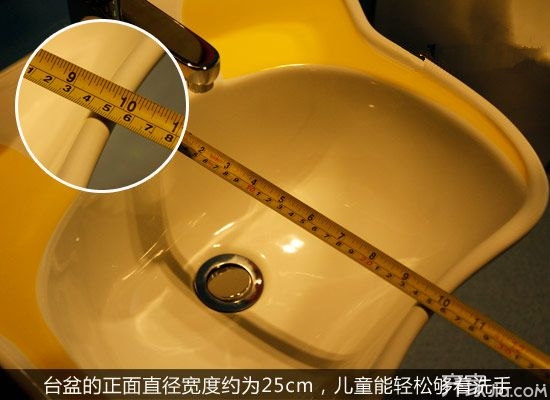 The front diameter of the countertop is about 25cm wide, plus a concave arc design, which allows children of different ages to easily reach out and open the faucet. The arc shape is not only vivid and interesting in design, but also makes it easier for children to use hand sanitizer or soap placed on both sides during use.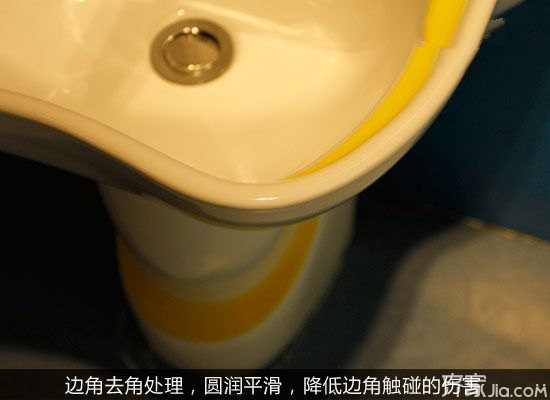 In order to better meet the safety of children in the use process, the product adopts corner bevel treatment on most of the corner details, which is round and smooth, which can well reduce the damage caused by children to sharp corners. The product performs better in terms of safety factor.
The basin is provided with an overflow to prevent children from spilling water in the basin during the process of playing with water. The product does not include a faucet, but the author believes that with a faucet that can be designed to be consistent in shape, it can be matched with the entire set of bathroom products, which is more perfect and consistent.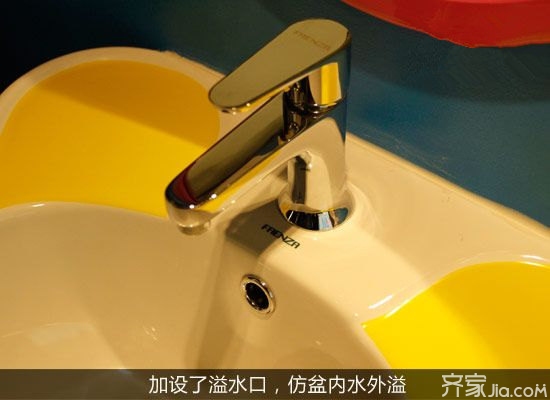 For bathroom products used alone, the surface of the washbasin may be difficult to touch stains that are difficult to clean, but once the stains are difficult to remove on the surface of the washbasin, the stains will breed a lot of bacteria over time, which affects the health of children.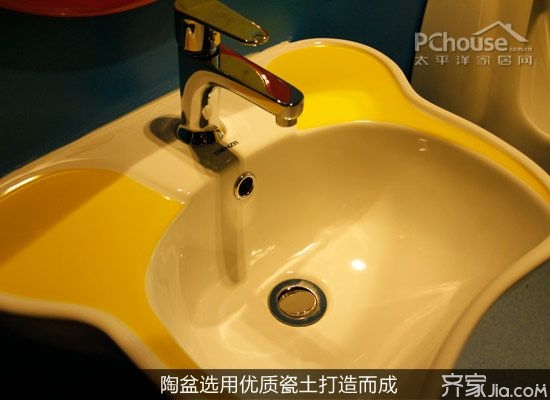 Faenza FP36101 children's wash basin is made of high-quality porcelain clay, and it is produced after selected water processing. The processed materials contain radioactive minerals that are screened out and contain no harmful substances. It is not only healthy but also environmentally friendly for children .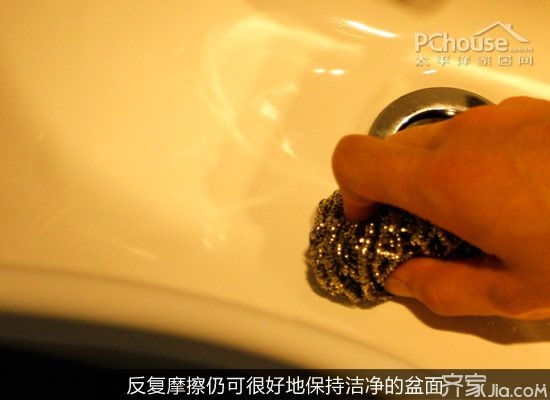 The surface of the ceramic basin is treated with three layers of glaze spraying. The thickness of the glaze layer is more than 1.1mm. The glaze surface is smooth and smooth, the gloss is fine, and it has more acid and alkali resistance characteristics. The editor repeatedly rubbed the ceramic surface with steel wire, and basically no clear scratch marks were seen. And a wear-resistant ceramic can better maintain a smooth surface, so as not to leave stains on the surface.
Editor's review: Faenza FP36101 child wash basin is a typical engineering bathroom product, with lovely shape and bright colors, can be applied to kindergarten or early education institutions, and is well used to cultivate children's independent hygiene habits, let children Fall in love with cleaning and grooming. And in the home environment with young children, if there is enough bathroom space, you can also consider installing such a vivid and childlike wash basin, so that children can develop a habit of cleaning at home, which is also a good s Choice.
Tips: For more home improvement materials market and brand home appliance furniture evaluation, please pay attention to this website (WeChat: mall_jia).
What, the decoration still uses his own money? ! The Qi family is decorated in installments, with an ultra-low annual interest rate of 3.55% and a maximum loan of 1 million. Apply now to enjoy the discount
If you are interested in brand cooperation, content cooperation, and advertising of this website, please send an email to :.
Faenza sanitary ware bathroom accessories basin
Paper A sheet made of plant fibers, used for painting, printing books and newspapers, and packaging. Paper: The general term for paper. The paper is counted in sheets, so it is called. Paper is generally divided into: letterpress printing paper, newsprint, offset printing paper, coated paper, book cover paper, dictionary paper, Copy Paper, board paper, etc.
There have an recycled paper. Broadly speaking, the paper produced by recycling used waste paper to make recycled pulp and replacing raw wood pulp with it can be called recycled paper. For example, industrial waste kraft cartons are used as the main production raw materials, and the gray bottom layer of general cardboard uses mixed waste paper as the main production raw materials. These products can be called industrial recycled paper. Generally, cultural paper used for writing and printing is mostly made of bleached chemical raw wood pulp as raw materials, and this paper can also be made from waste paper raw materials. The produced cultural paper is called recycled paper.

The use of recycled paper has the following advantages:

1. It can slow down the rate of deforestation and protect the ecological environment;
2. It can extend the service life of garbage landfills;
3. It can save energy and reduce pollution;
4. It can reduce the fatigue of eyes reading

Paper Products,Printer Paper,Graph Paper,Notebook Paper
Shijiazhuang Qiancen Industry Co.,ltd , https://www.yuyilang.com